Firearms Training Courses
Upcoming Course Dates
Thank you for your interest in PRS Tactical. I am currently not teaching regularly scheduled courses so I can spend more time with my family following the birth of my son. I do have limited availability to teach private courses.
Private Courses - $500 Minimum
Private courses can be arranged at your location* or at the Green Valley Rifle & Pistol Club. Please email the instructor to request a quote.
*Must have space suitable for use as a classroom and a safe shooting area with adequate backstop.
A $26.95 Value Included With Your CCW1 Course!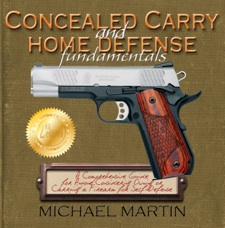 CCW1 - Missouri Concealed Carry - $110
Starts at 8:00 AM and runs 9-10 hours. Discounts available. Please see the registration form for details.
This course significantly exceeds Missouri's minimum training requirements to apply for a concealed carry endorsement by includng essential topics that other instructors often reserve for intermediate courses. Includes textbook, range supplies, and certificate/affidavit of training for Missouri concealed carry endorsement. A light breakfast and coffee will be provided. Please bring a sack lunch.
Students will need a semiautomatic handgun AND a revolver with a minimum of 75 rounds per gun (100 recommended). Only commercially-produced ammunition is permitted. NO RELOADS.
Handguns and ammunition are not included in the course fee. Rental guns are available by reservation. If you are not sure what design or model of gun you want to carry, be sure to add the CCW Handgun Shooting Experience to your training package!
CCW1A - Missouri Concealed Carry, No Textbook - $95
This is the Missouri Concealed Carry course for students who wish to share a textbook with another member of their household who is purchasing the course with the textbook. Applications must be received together.
CCW1B - Missouri Concealed Carry, Underage - $95
This is the Missouri Concealed Carry course for students who are under age 19 and not in the military. The only difference is that the course completion certificate is not a valid affidavit of training for a Missouri concealed carry endorsement. Must be at least 16 years of age. If under 18 years of age, the student must be accompanied by a family member who is not underage and must have the permission of a parent/guardian.
If you are taking the CCW1 course and have teenagers, this is a great way to introduce them to principles of firearms safety, personal protection, and responsible defensive use of firearms.
CCW2 - Advanced Concealed Carry
Release date is to be determined. Please email the instructor to be notified of future course offerings when they are released.